Northern of Taiwan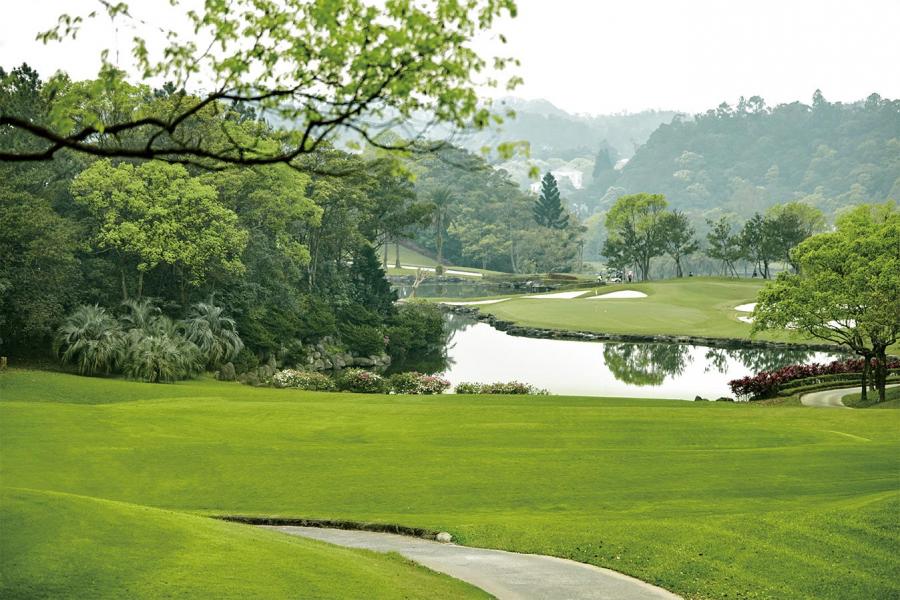 ⇒ Ta Shee Golf & Country Club
Listed among Taiwan's best -known golf courses, Ta Shee Golf & Country Club has hosted many top golf tournaments, including the Johnnie Walker Classic and the BMW Asian Open. The golf course, which was designed by Robert T Jones Jr., has 27 holes with various features and challenges.
The course is considered to be the benchmark golf course in Taiwan.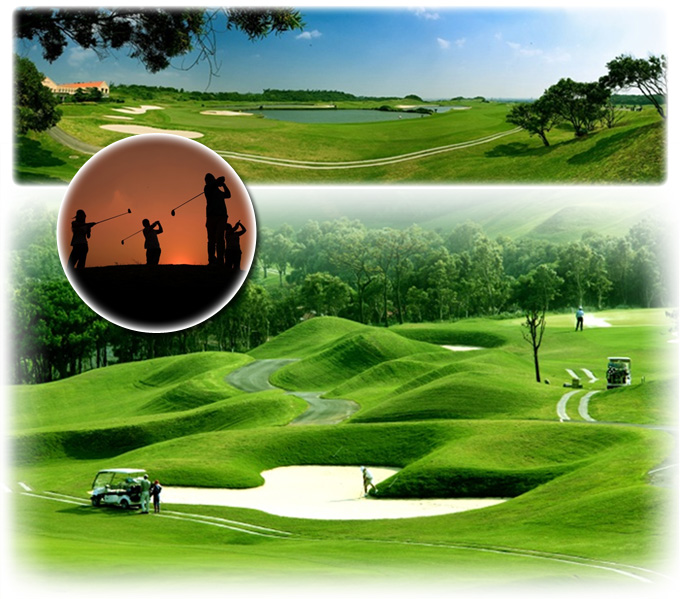 ⇒ Yung-Han Golf Club
Yung-Han Golf Club was founded by the Japan-based Taiwanese entrepreneur Chu Yung-han who, during his travels had visited most of the famous courses in the world. Attracted by the pristine style of St. Andrews, Scotland, he had the idea of re-creating the same course design concept in Taiwan.
Chu invited Shunsuke Kato, founder of the Japan Golf Association, to turn the terrain in Luzhu into an authentic links-style 18-hole layout.
The clubhouse, designed by Akira Nishioka from Japan, is decorated with a touch of European elegance.
When the weather is stable, players may have an easy game here. However, when the wind starts blowing, the course becomes very challenging.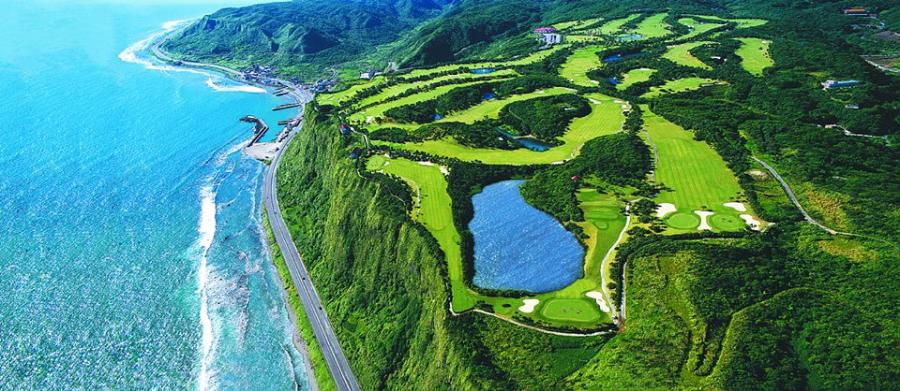 ⇒ North Bay Golf & Country Club
North Bay Golf & Country Club is located on the north coast and boasts gorgeous views. You can enjoy the beautiful scenery while playing golf. The golf course is situated on the cliff facing the ocean. The fairways are built along the natural terrain, which presents many challenges for the player. In addition, the wind from the sea enhances the challenge. The North Bay Golf Club is a private club owned by shareholders and governed by an elected Board of Directors. In 1921, a group of golf enthusiasts formed the NGC&CC and engaged the renowned Canadian designer Stanley Thompson to layout the new course on what was once farm land originally owned by the MacIntosh family. Prior to Thompson's involvement, it was said that these enthusiasts, despite the presence of no formal golf course, had "hit the ball" along this pastureland for many years prior to 1921.
Stanley Thompson had a flair for features on a massive scale. He was not averse to sculpting the earth along vast dimensions in search of generous playing areas and diverse angles of approach. Consistent with his designs of boldly-shaped layouts and breathtaking courses, the North Bay Golf and Country Club was designed using many of the land's natural terrain.
Once formally established as a private club, the next step was to form the body of directors to oversee the operation. The first president of the NBG&CC was Senator George Gordon and the first club professional hired was George Smale.
The original nine holes spanned 2800 yards and were ready for play in 1923. With seasonal renovations, and a strong commitment from members giving of their labour, resources and donations the course has evolved into one of the finest eighteen hole challenges in the North.
For the golfer, water comes into play on a least 13 of the 18 holes and first-time players often comment on the individually presented by each hole the 6300 plus yard, par 72 layout. The play demands well placed shots instead of the long ball."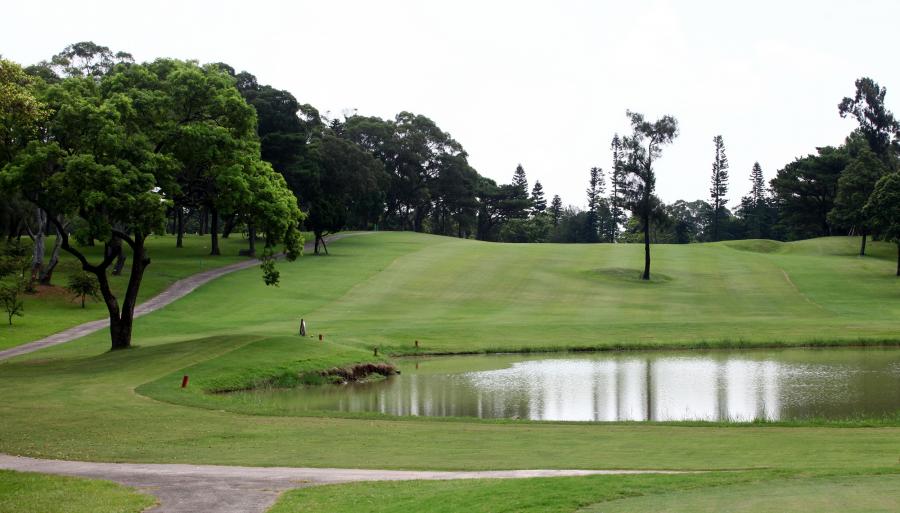 ⇒ Linkou International Golf & Country Club
Linkou International Golf & Country Club, situated in suburban Taipei, has a history of over 50 years since its opening in 1965. Playing golf here is a pleasurable experience. The Linkou International Golf & Country Club has become a popular place for golfing in northern Taiwan. The fairways are not too challenging and are well maintained.
It also features a full-service clubhouse and a restaurant.
Linkou International currently has 27 holes and the course is moderately challenging. The course is sourrounded by nature and Guanyin Mountain. Tamsui River mouth and Taipei Port are just part of the spectacular view from this course. The good conditions of the course , great clubhouse facilities and the convenient location make Linkou International Golf & Country Club a real gem for golf passionates.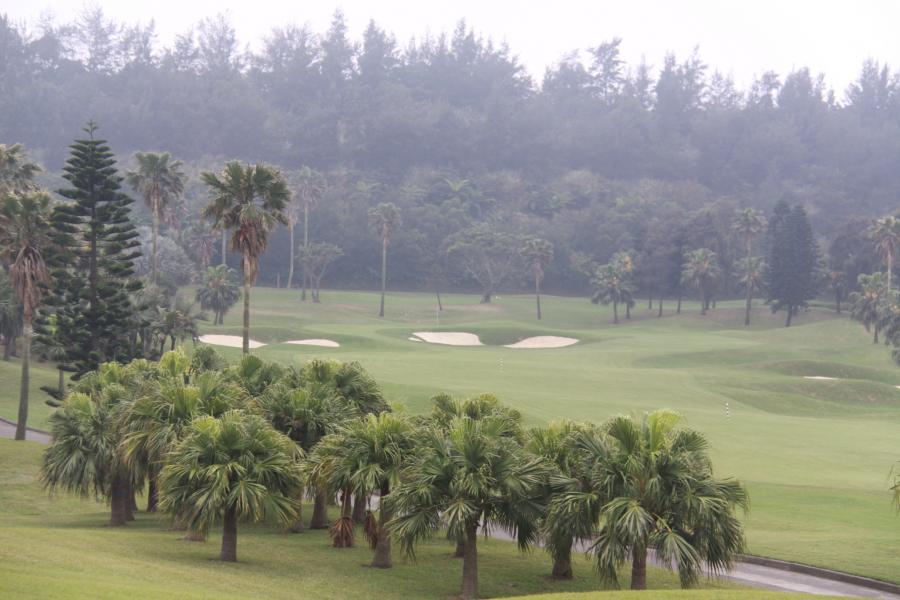 ⇒ Miramar Golf Country Club
Designed by Jack Nicklaus, Miramar Golf Country Club - completed in June 1995 - is a 36-hole luxury golf resort and it is one of the most prestigious golf resorts in Taiwan. There are 12 pools and 110 American-style bunkers, which bring lots of fun and challenges to the players.
This world-class course boasts 12 water hazards and 111 bunkers, offering golfers of all levels a different experience when they play on this course.
The Miramar Golf Club ranked as the No. 1 course in Taiwan by American golf magazine, "Golf Digest" in June 1999.
The golf club features a V-I-P room with a great view of the golf course, restaurants, a member's club and facilities like, a sauna, a karaoke, billiards and a reading room. In addition to their facilities, they offer professional coaching for playing golf. The course is used for both recreational play and competitions. It is approximately 45 minutes drive from Taipei and is widely regarded among the top 5 courses in Taipei

Center of Taiwan

⇒ National Golf Country Club (NGCC)

The National Golf Country Club (NGCC) is more than just a golf course. Home to one of the top-five golf courses in Taiwan, NGCC offers not only a professional championship 18-hole golf course but is also a luxurious family holiday resort which also appeals to non-golfers.
Located on the Huoyan Mountain in Yuanli, Miaoli, NGCC provides golfers with breathtaking views of the Taiwan Strait. NGCC's multi-dimensional leisure and recreational services are specially tailored for families.They can enjoy fine dining at our restaurants as well as exquisite wines from our wine cellar. NGCC has expanded its operation from being a golf-only property to a top holiday destination for golfers and non-golfers. Outdoor BBQ patio and outdoor swimming pool are available.
Perfectly suitable for families and long week-ends.

⇒ Taifong Golf
The fairways of Taifong Golf Course were designed by Japanese designer Watanabe Hiroyuki in 1977. The land consists of 70 hectares of rolling hills, the 18 holes extending to 7,552 yards, and a par 72 course. It sits at an altitude of 150m in a hilly part of central Taiwan, and enjoys a warm, dry, and favorable climate throughout the year. Since 2005, Taifong Golf Course has been devoted to promoting Taiwan's professional golf, and once even held three international professional tournaments within a year. Among these games, Taifong Open stands firm to provide an excellent stage for Asian golfers participating in international competitions to build their skills. Taifong Ladies Open has become one of the three major tournaments in Taiwan at the beginning of the year, and leads as one of the most important events in the WWGR's (Women's World Golf Rankings) line up. Before the golf queen Ya-ni Tseng started her career, she debuted at Taifong's championships.

⇒ Taichung International Country Club
At Taichung Golf & Country Club, located on the green hillside of the Dadu Mountain in suburban Taichung, it is spring all year round. It is operated with western and Japanese golf course management mindsets and was designed by Mr. Watanabe Hiroshi, an internationally renowned golf course designer and also the master architect for the Japan Kyoto Golf Course.
The course covers an area of 90 hectares, includes 27 holes and 107 strokes. The fairway has a total length of 9,580 yards and the course layout incorporates western and Japanese designs that feature rolling terrain, over 10,000 trees, undulating fairways, curvaceous greens, an effective drainage system and well-placed hills and sand bunkers.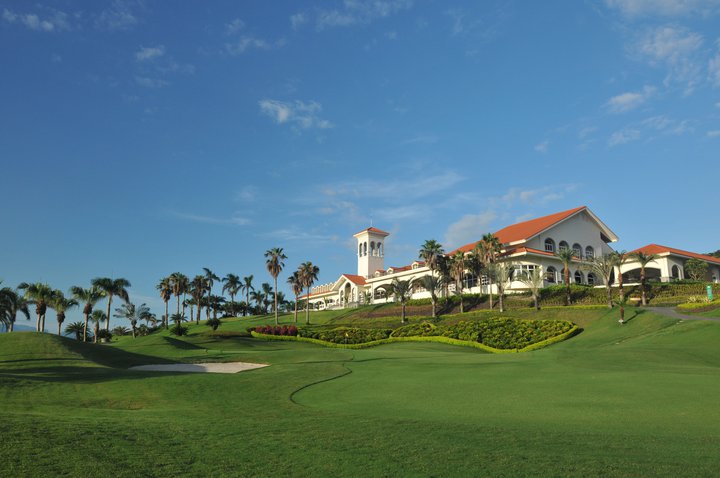 ⇒ Nan Fong Golf Club
Located in Nantou City, this course offers great views of the surrounding countryside and its forests. The fairways were designed by Lee Trevino, the legendary Mexican golf star. With a gorgeous club house and well-maintained fairways, this is one of the best golf courses in Central Taiwan.
The golf course has 18-hole standard rods seventy-two rods, a total length of 7,065 yards. The fairway goes up and down the mountainside and down along the hills.
Included in the Rolex World's Top 1,000 Golf Courses and honored as one of Taiwan's top three courses in a vote held by Asian Golf magazine.
The clubhouse of Nan Fong Golf Club features a Spanish-style leisure manor design, which is an extension of Mediterranean-style architecture. The 1,900-ping (6,281 m2) clubhouse offers various amenities, including Chinese and western restaurants, two different-sized banquet halls, male/female lockers, spa (including a steam sauna), a proshop and six highly-private VIP rooms, etc. The female-exclusive box-style lockers (for 2-4 ladies) and spa area is a lofty, elegant private space which shows sufficient respect to female golfers and brings on a feeling of being spoiled.

South of Taiwan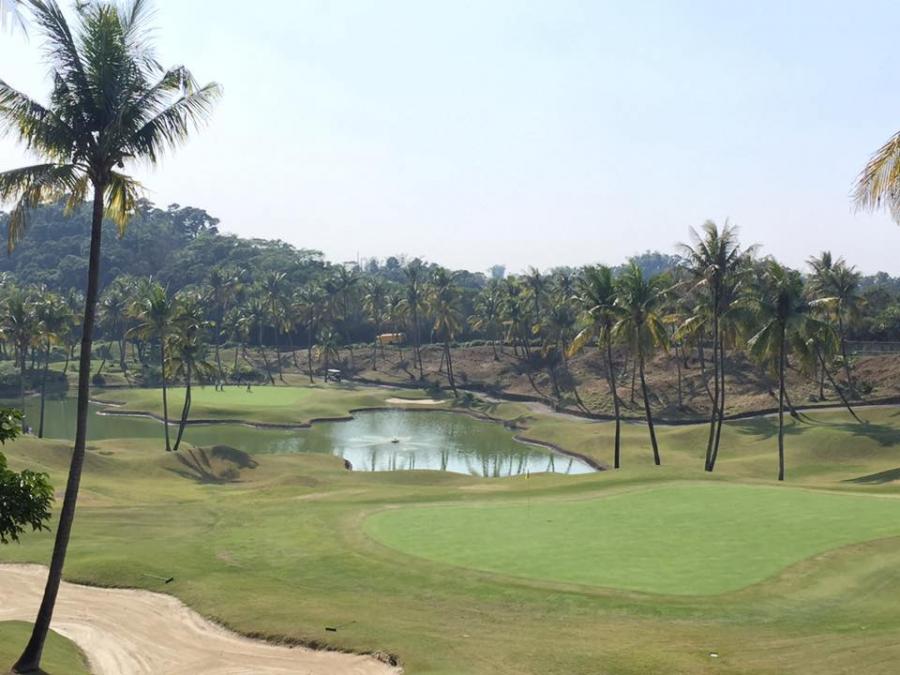 ⇒ Palm Lakes Resort
Located at the foot of famous Alishan, the Palm Lakes Resort combines golf, food, accommodation and spa. It features a South Seas-style club house and resort, built with timber transported from Bali.
The Southern Asian style clubhouse is nestled among palm trees, tropical flowers and plants, creating an authentic tropical island ambience.
The course is designed by the great contemporary course designer Shunsuke Kato and features 18 holes.
To make Palm Lakes Resort a relaxing getaway destination, the resort provides luxury facilities, bringing people a wonderful experience similar to being at a five-star hotel. The view cabins show an exquisite luxury similar to that of the Four Seasons, with great views and scenery accessible from every guestroom.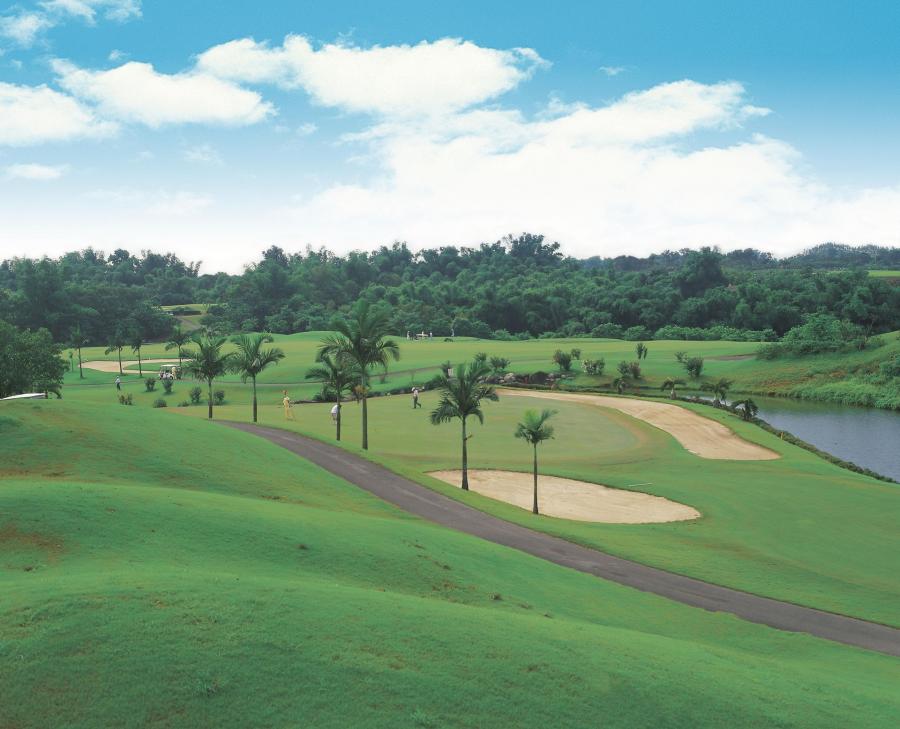 ⇒ Chianan Golf
Opened on March 5, 1995, Chia Nan Golf Country Club has a beautiful layout covering a hilly area of 75 hectares and 18-holes court. The exquisite design makes Chia Nan a highly challenging and exciting course.
Chia Nan Golf Country Club - in Guantian District, Tainan City - was designed by the renowned American design company Willard C. Byrd & Associates, The distinctive features and intriguing views are indeed a treat to the eyes and the mind. The exquisite design makes Chia Nan a highly challenging and exciting course. The course ingeniously combines natural features and landscaping design.