說明 Introduction
Xiao Liu Qiu has a few beaches. Snorkeling and diving are the best activities you can do to see the famous green sea turtle. You can also meet the turtle on the beach or see them while enjoying the sunset.
Renting goggles independently will cost around 50-100 TWD (approximately 2-3 USD) and going with a group will cost 300-500 TWD (approximately 10-16 USD), what includes goggles, wetsuit, aqua shoes, insurance and a coach.
You can reach the island by ferry which leaves from Dong Gang which is about 30 minutes by car south of Kaohsiung City.
Dong Gang can also be reached by public transportation from Kaohsiung Main Station ( it will take around 1 hour ) and with a little walk from the bus station to the port.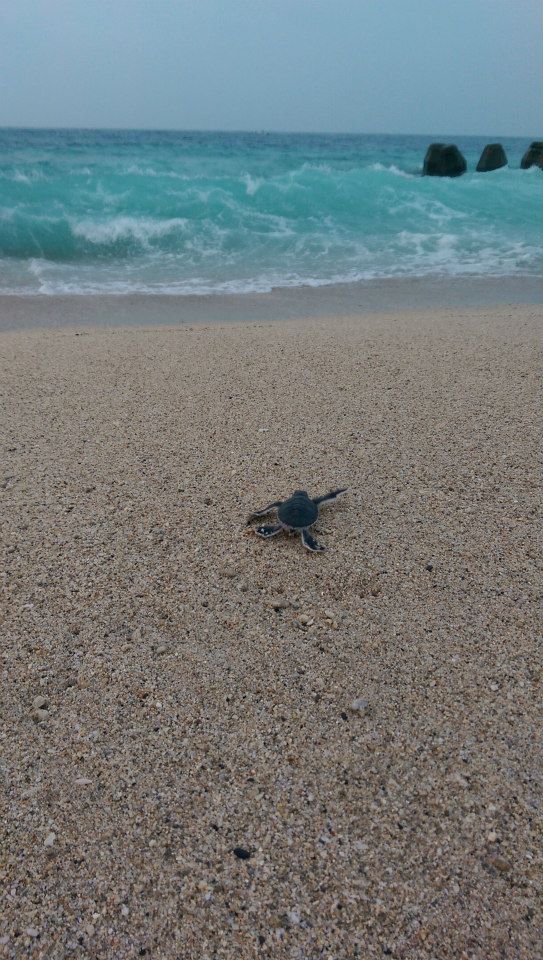 Ferries to Xiao Liu Qiu only depart from Donggang Ferry Harbour and there are two ferry companies, Liuqui Township Ferries and Dongliu Line Ferries. Information regarding hours and rates are available on the official ferry website, but a return ticket will cost around 300-400 TWD (approximately 10-14 USD) depending on which company you go with. The last ferry usually departs at 5.30 PM, so be sure to arrive early if you are only there for a day.

The best way to explore the island is to rent a scooters. Both fuel powered and electric scooters are available to rent for the day. They cost about 350 TWD.

If you drive around the island with stops, it would take about 30minutes. The whole island is only about 7 square kilometers.
Originally known as Samagi, Xiao Liu Qiu (小琉球), the island had been in the possession of other countries, such as the Dutch, during colonization. Nowadays, people live there and have businesses such as B&Bs, scooter rentals, restaurants, and snorkeling and diving shops.
Our suggestion: Choose the best partner you want to travel with and stay at least 1 night to fully refresh your mind and body!

Book your room in advance! Although there are tons of B&Bs, guesthouses, and hostels on Xiao Liuqiu Island, it's quite common for all the rooms to be booked on weekends and holidays.