說明 Introduction
Fuxing Township
Fuxing Township is a large, mostly Atayal area in Taoyuan County comprised of 10 villages and more than 30 indigenous communities. In the summer months, this area comes alive with the peach harvest. But, actually fruits and vegetables are produced year round. It is also known for the Shimen Dam, and its associated reservoir, along the Dahan River. The dam was built in 1964 and without warning forced indigenous residents to flee their homes as their villages became inundated with water. This part of the township's history, as well as heavy sedimentation in the reservoir and other issues, is a sore spot for residents here.

Gaoyilan Community
This community's development association has been working over the past few years to develop tourism opportunities. Visits usually start with a ride in a covered or uncovered farm truck for about 10 minutes along narrow roads with sharp turns. This brings you to the entrance of a trail that extends a few hundred meters through the hunting grounds of two Atayal clans. Along the way, a local guide introduces a variety of traps and snares used to catch mice, birds, monkeys and wild boar. Then, visitors can step onto an observation platform to admire the Hnuway Stream. After that, they can test their archery skills using replicas of wild boar before completing the trip to the Gulu Waterfall. Other activities may include village tour, performances in the village's theater, DIY handicraft making and swimming in the Hnuway Stream.

Lala Mountain Nature Reserve
"Lala" means "beautiful" in the Atayal language and this place certainly is. This is part of the Upper Baling Community of Fuxing Township in Taoyuan County, "baling" being a transliteration of the Atayal word for "giant trees". This basically sums up the Lala Mountain Nature Reserve.

There are 24 old Taiwan cypress trees aged between 500 and 2,800 years. Each is numbered and can be reached from along a 3.3 kilometer trail.

Datong Township
This township is located in southwestern Yilan County. It is a mountainous area and although not far from Yilan City and even Taipei City, with the opening of National Freeway 5 and the Xueshan Tunnel, several aspects of indigenous Atayal culture have been preserved. Moreover, this township is blessed with many trails, rivers, ecological areas and forest recreation areas.

Qilan Forest Recreation Area
This forest recreation area was one of late President Chiang Kai-shek's favorite vacation spots and he had a chateau built here, which still stands. Visitors can enter the chateau and see how it was decorated by the President and First Lady and view historical photographs. This forest recreation area includes several nature trails, the most challenging of which is the Forest Shower Trail, a 2.1 kilometer loop. This trail is quite steep in some places but is well maintained with sections of wooden steps and gravel paths. Highlights include wooden bridges, a Chinese-style pavilion and a complex of empty and neglected wooden buildings that date back to the recreation area's establishment some 25 years ago. There are also trails for admiring flowers that blossom throughout out the year and it is very possible that you will see Formosan rock monkeys and other wildlife.

Songluo Village
The residents of Songluo Village include those of the Atayal tribe and Han Chinese. Many of the Han Chinese residents are involved in tea growing and offer covered pavilions amid rows of tea plants for simultaneous enjoyment of the locally grown tea and panoramic views. As this village is surrounded by mountains it also offers the opportunity for ecotourism activities such as hiking the 2.4-kilometer Songluo National Trail, which is maintained by the Songluo Community Development Association. This was once an Atayal hunting path, and is now a place for environmental conservation and education. It is mostly gravel path for the first kilometer. After crossing the Songluo River on a single file suspension bridge, there are rocks to cross and the scenery is of pristine forest. This trail has mostly gradual slopes and is suited to persons of average fitness.

Atayal Life Museum
This is the best place to start your exploration of this township. There are exhibitions on the geography and topography of the township, as well as on its ecology. A model of the township shows the layout of the various attractions. There are also exhibitions on various aspects of Atayal traditional culture. Visitors can try on indigenous clothing and have their picture taken in front of a traditional style granary and using various props such as a chair used by a groom to carry his bride and pestle and mortar. The gift shop is a cooperative of local handicrafts workshops. Each day, the staff of one of the workshops is responsible for running the gift shop.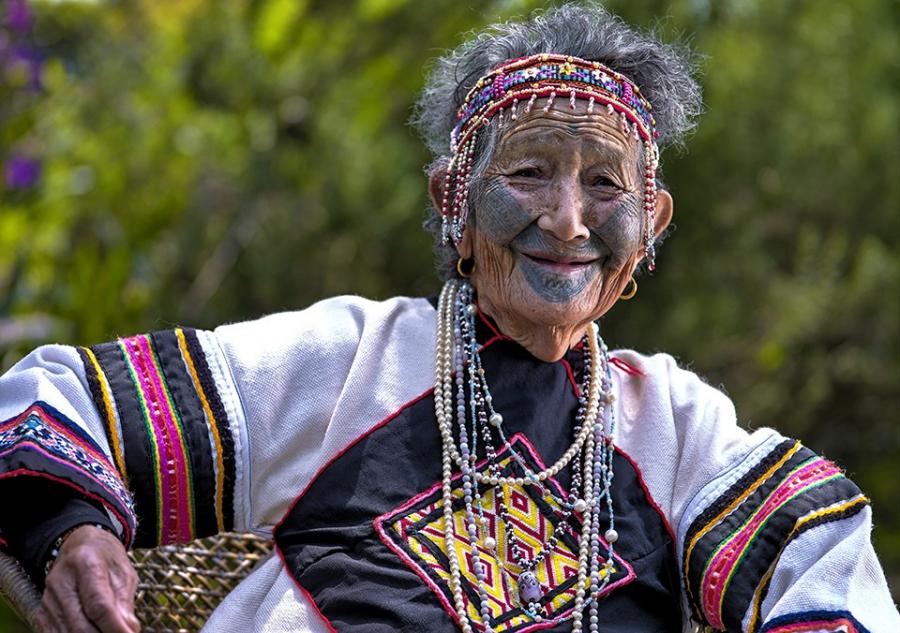 Information about the tribes visited on this tour
Atayal tribe

The Atayal has the largest distribution of Taiwan's indigenous tribes stretching from the north to the center to the east.

The males of the Atayal tribe have long been respected for their hunting and trapping skills and their harmonious relationship with nature. For example, hunting is never carried out during the breeding season to ensure that animal populations are not reduced.

Modern life has come with its conveniences such as obtaining food more easily and with laws restricting the hunting activities of the indigenous people. To avoid losing their hunting traditions, many Atayal villages are working to revive hunting practices.

The Atayal have developed many types of traps and snares from large to small, depending on the type of animal to be caught.

Cloth weaving is an important traditional art form among the Atayal. From long ago, to the present, the women of the Atayal tribe have been considered some of the best weavers. This is due to the complexity of the patterns produced using manual looms. Traditionally, a simple horizontal backstrap loom was used. A woman sat on the ground and placed a strap around her back using her waist to adjust the tension. She stretched out her legs over which was placed the weaving frame. This was attached to a hollow wooden stand which could serve as a place to store weaving materials or as a percussion instrument.

Facial tattooing was a tradition of the Atayal, Sediq and Truku tribes. Among males, tattoos were comprised of a thick, vertical line down the center of the forehead and another vertical line down the center of the chin. Among females, the tattoos were more complicated with a vertical line down the center of the forehead and a complex pattern around the mouth and across both cheeks. A complete set of facial tattoos was considered a symbol of entry into adulthood, as well as a symbol of accomplishment. The males of the tribe had to prove themselves to be skilled warriors, able to protect their family, and the females had to prove themselves to be skilled weavers, able to clothe their family. This tradition began to be banned in 1913 by the Japanese who occupied Taiwan at the time. This ban resulted in much resistance by the Atayal, Sediq and Truku tribes but was successfully enforced by the end of the 1930s. Now, only a handful of very elderly women have these tattoos. To keep this important part of the culture from completely dying out, in the recent decade several young people from these tribes have made a brave decision to tattoo their faces.